Home > About GLERL > History
History of the Great Lakes Environmental Research Laboratory
---
The NOAA Great Lakes Environmental Research Laboratory is one of seven Federal research laboratories in the Oceanic and Atmospheric Research line office of NOAA. Designated on April 25, 1974, GLERL was established to provide a focus for NOAA's environmental and ecosystem research in the Great Lakes and coastal marine environments. The original GLERL was formed by merging staff from the Limnology and Computer Divisions of the Lake Survey Center of NOAA's National Ocean Service with the staff of the International Field Year for the Great Lakes Office.
GLERL has made many important scientific contributions to the understanding and management of the Great Lakes and other coastal ecosystems. GLERL scientists regularly engage with academic, state, federal, and international partners. GLERL research provides information and services to support decisions that affect the environment, recreation, public health and safety, and the economy of the Great Lakes and coastal marine environments.
GLERL Contributions to Great Lakes Science and Management
The Early Years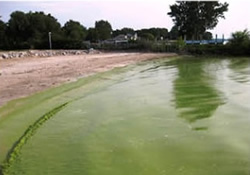 Algal blooms caused by excess nutrients were one of the major environmental issues in the 1970s, and a GLERL–developed phosphorus model was used by the International Joint Commission to determine loading limits. By 1980, the laboratory had expanded to include a major research effort on the cycling of sediment particles and associated toxic organics, which were recognized in the Great Lakes Water Quality Agreement as a major environmental problem. GLERL scientists led some of the early work in identifying and evaluating processes affecting the deposition and cycling of contaminants in the lakes and showed that the sediment zone is a major repository for contaminants and also a major source for recycling contaminants to the water column and food web. A Great Lakes oil spill model was put into operational use and successfully predicted the drift of an abandoned ship.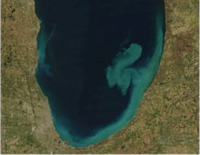 GLERL staff worked cooperatively with other agencies to develop research projects focused on major environmental issues in keeping with NOAA's mission and goals. GLERL's water resources research focus was expanded to include the impacts of climate change on the Great Lakes, which has led to GLERL's participation in the national Water Resources Forecasting Program. GLERL's scientific expertise on the movement and cycling of sediment particles, and circulation measurements and modeling, has led to several large joint research programs with the U.S. Environmental Protection Agency to develop contaminant mass balance models for selected areas: the Upper Great Lakes connecting channels, Green Bay, and Lake Michigan. Also during this time, microcinematography was used to understand zooplankton behavior and predation.
1980s: Research on Invasive Species
In 1987, GLERL moved to a new facility in northeast Ann Arbor. This permitted consolidation of laboratories and marine instrumentation space for the first time. The Cooperative Institute for Limnology and Ecosystems Research (CILER) was established in 1989 in an agreement between NOAA, the University of Michigan, and Michigan State University.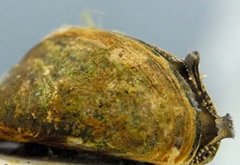 In 1989, GLERL launched a small research project on nonindigenous species. Research started with the ecosystem impacts of Bythotrephes, the "spiny water flea," which had spread through most of the Great Lakes. However, with the discovery of Zebra mussels (Dreissena polymorpha) in Lake St. Clair, and the passage of the Nonindigenous Aquatic Nuisance Prevention and Control Act of 1990, GLERL was tasked with developing a major program on nonindigenous species, focusing on the ecosystem and environmental effects of the Zebra mussel. Through this program, GLERL scientists discovered the dramatic decline of the important, native amphipod Diporeia, first noted in Lake Michigan in the early 1990s. The ramifications of the Diporeia decline have been far reaching, affecting a series of ecologically and economically important fish.
1990s
In 1994, the first GLERL website went live. In 1995, the Muskegon facility on Lake Michigan was officially named the Lake Michigan Field Station.
A large, interdisciplinary research program known as EEGLE (Episodic Events – Great Lakes Experiment) was led by GLERL scientists from 1997 to 2002. The project sought information on the importance of resuspended materials caused by spring storm events in Lake Michigan.
In 1998, GLERL became involved in the National Ocean Sciences Bowl Midwest Regional Competition for high school students, which continues to be an important annual outreach event.
2000 - Present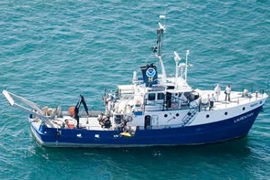 In 2002, GLERL acquired the research vessel LAURENTIAN from the University of Michigan. The 80 ft. vessel is part of a fleet of 13 that includes other large vessels and small boats. In 1999, staff at the Lake Michigan Field Station began retrofitting GLERL's vessels to run on biofuels and achieved the goal of becoming a 'petroleum-free' fleet by 2006. Today, GLERL is helping other Federal agencies "green" their vessels through the Federal Green Fleet Working Group, formed in 2010.
GLERL led a large multi-agency experiment from 2005 to 2007 called the International Field Years on Lake Erie (IFYLE). The focus of this study was harmful algal blooms and hypoxia.
In late 2008, GLERL moved across town to a new facility with much greater square footage and improved laboratory facilities, marine instrumentation storage and staging areas, and conference room space.
In fall 2010, GLERL underwent an external laboratory review. This review commended the restructuring of the laboratory into three science theme branches, but suggested the need for a bold, new strategic vision. In response, GLERL developed its 2012 Strategic Plan, which outlines a bold plan to develop an ecosystem forecasting capability.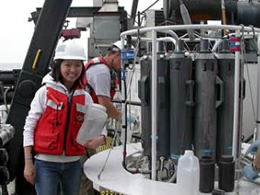 Today, GLERL research is carried out under three integrated science branches: Observing Systems and Advanced Technology, Ecosystem Dynamics, and Integrated Physical and Ecological Modeling and Forecasting. These three branches work together to collect the necessary information to develop and advance predictions of interconnected ecological and human systems in the Great Lakes. Specific research areas include studies of food web changes since the Zebra and Quagga mussel invasion, the impacts of climate change, the development of coastal forecast systems, dissemination of satellite imagery for environmental products development, the bioavailability of toxic organic chemicals, and harmful algal bloom forecasting.
Mission: GLERL and its partners conduct innovative research on the dynamic environments and ecosystems of the Great Lakes to inform resource use and management decisions that lead to safe and sustainable ecosystems, ecosystem services, and human communities.
Vision: Reliable predictions of changes in interconnected natural and human systems contribute to the improved management of large lakes of the world and similar coastal ecosystems.