Great Lakes Water Level Observations
Great Lakes water levels constitute one of the longest high quality hydrometeorological data sets in North America with reference gage records beginning about 1860 with sporadic records back to the early 1800's.  These levels are collected and archived by NOAA's National Ocean Service.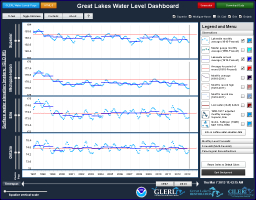 The Great Lakes Water Level Dashboard was designed for convenience in viewing lake levels and forecasts at a variety of time scales. By adjusting the endpoints of the slider below the x-axis, you can select the time frame of interest. Many options are available for customizing the graphs in addition to time scale. The '?' box is a good place to start. Click on image to access dashboard.
The dashboard is best viewed at a screen resolution of at least 1024 x 768 (fullscreen).
If you attempt to view the dashboard on a non-Flash capable tablet device, an alpha version of the Dashboard for non-Flash devices will try to load. This version is not suitable for smart phones.
Click here to download dashboard text-based data files.
Click here to see a beta version of the Great Lakes Hydro-Climate Dashboard (features precipitation, evaporation, runoff, net basin supplies, and ice data).
Please note that the dashboard is a work in progress. If you find a bug or error with the Dashboard, please e-mail the developer at joeseph@umich.edu.
Water Level Plots
Daily levels compared with last year's levels
Superior
Michigan, Huron, St. Clair, and Erie
Ontario
Daily levels compared with monthly Min, Max, and Mean levels
Superior
Michigan-Huron
St. Clair
Erie
Ontario
The long-term mean levels above are averages for the period of 1918 - 2008.
NOTE: The above plots contain raw data that have not been subjected to the National
Ocean Service's quality control or quality assurance procedures and do not meet the
criteria and standards of official National Ocean Service data. They are released for
limited public use as preliminary data to be used only with appropriate caution.
Water Level Gages
The above plots use data from the gages listed below to represent the levels on each lake.
Water level gages information provided by NOS's Center for Operational Oceanographic Products and Services.
Hydrographs
A hydrograph provides a way of seeing seasonal and yearly changes in the flow or discharge of a waterway. The hydrographs for the Great Lakes period of record (starting in 1860 or 1900) illustrate different water regimes over time.
The data files below contain the annual average water level for every year as well at the long-term mean level in meters, IGLD85.
| | |
| --- | --- |
| Hydrographs | Data Files (.csv) |
GLERL's Monthly Hydrologic Data
Produced by the US Army Corps of Engineers:

Monthly Bulletin of Great Lakes Water Levels

Current Water Level Conditions, Reports

Canadian Hydrographic Service Hourly Water Level Data

Canadian Hydrographic Service Monthly Water Level Bulletin
Contact:
Drew Gronewold
NOAA/GLERL
4840 S. State Rd.
Ann Arbor, MI 48108-9719

734-741-2444

Craig Stow
NOAA/GLERL
4840 S. State Rd.
Ann Arbor, MI 48108-9719

734-741-2268