2012 Lake Huron Cooperative Science and Monitoring Initiative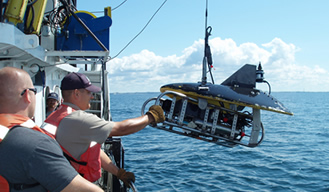 In the spring of 2012, GLERL scientists initiated an intensive research effort in Lake Huron, partnering with the U.S. Geological Survey Great Lakes Science Center (USGS-GLSC), the U.S. Environmental Protection Agency (EPA) Great Lakes National Program Office, the Michigan Department of Natural Resources (DNR), the University of Michigan, and Environment Canada. The field campaign, entitled "2012 Lake Huron Coordinated Science and Monitoring Initiative (CSMI)," is sponsored by EPA and NOAA in part through the Great Lakes Restoration Initiative. The research will help scientists understand the structure and function of the Lake Huron ecosystem - from bacteria to fish - and clarify the impacts of stressors such as invasive species, climate change, nutrient loading, and overfishing.
The Lake Huron field campaign will employ an impressive fleet of vessels, including GLERL's 80-foot R/V Laurentian and 50-foot R/V Storm and two large USGS research vessels, the R/V Sturgeon and Grayling. Intensive cruises will be conducted in the waters of the Thunder Bay National Marine Sanctuary off Alpena, MI in April, July, and September 2012. Sampling will also be conducted aboard EPA and Environment Canada research vessels lake-wide across Lake Huron.
The 2012 Lake Huron CSMI will serve as the foundation for GLERL to establish a long-term ecological research program in Lake Huron. GLERL has conducted its ecological research program in southern Lake Michigan off of Muskegon, MI since the 1980s, yielding long-term data sets on nutrients, benthic (bottom-dwelling) organisms, phytoplankton (floating algae), zooplankton (microscopic animals), and fish. The Lake Michigan long-term ecological research program monitors the spread of invasive Zebra and Quagga mussels and allows scientists to study their impacts, including declines in the benthic amphipod Diporeia, which was once an important source of food for fish. Lake Huron is a similar ecosystem to Lake Michigan and is faced with many of the same stressors, but has been poorly studied in the past. The long-term ecological research program in Lake Huron will integrate long-term observations on biological, chemical, and physical variables with process-based laboratory experiments to help develop new concepts and modeling tools to explore changes in the lake.
Work on the 2012 Lake Huron CSMI is divided into five sub-projects that focus on various ecosystem characteristics:
Mapping of bottom-dwelling organisms: This sub-project continues work begun in Lake Huron in 2000 to assess trends (population sizes, spatial distribution, etc.) in lake-wide benthic populations, including Zebra and Quagga mussels.
Structure and function of the open water food web: This sub-project, in cooperation with USGS-GLSC and Michigan DNR, will examine horizontal and vertical distribution of plankton, larval fish, juvenile fish, adult fish, and the opossum shrimp Mysis, and relate them to changes in phytoplankton and light caused by invasive Zebra and Quagga mussels. This intensive field sampling will allow detailed comparison to the Lake Michigan food web. University of Michigan scientists will examine the structure and function of communities of microbes, such as bacteria, in conjunction with this work.
Sediment core study in Saginaw Bay: This sub-project will collect samples of sediment from Saginaw Bay and the main body of Lake Huron to validate computer model results that suggest invasive mussels are trapping the nutrient phosphorus in shallow, nearshore areas. This hypothesized phenomenon, called the "nearshore shunt," is important because it may explain why nearshore areas are plagued by nuisance and toxic algal blooms, while the offshore food web suffers from too few nutrients.
Structure and function of benthic communities on hard substrates: One difference between the area of Lake Michigan that GLERL studies and Lake Huron is that the lake bottom in nearshore areas of eastern Lake Michigan is primarily composed of sand and other soft substrates, whereas the lake bottom in many nearshore areas in Lake Huron consists of harder substances such as rock. In this sub-project, GLERL will work with Michigan DNR and Thunder Bay National Marine Sanctuary to collect and process bottom-dwelling invertebrates and algae from hard substrates on natural reefs in Thunder Bay. GLERL scientists will measure Quagga mussel feeding and nutrient excretion on both nearshore and offshore substrates to evaluate their impact to Lake Huron nearshore and offshore regions. This exploratory effort will allow scientists to further understand the nearshore phosphorus shunt.
Physical measurements: This sub-project consists of three primary tasks. First, scientists will deploy current meters in Thunder Bay that measure water currents. These instruments will provide data for models to help understand how the ecosystem functions. Second, a buoy with a string of temperature sensors hanging below it will be launched in the middle of Lake Huron, providing year-round temperature measurements throughout the water column. This will provide additional critical information for ecosystem modeling efforts, and will collect temperature data useful for studying climate change and its impacts. Third, a buoy will be deployed in Thunder Bay at a depth of 20 meters to provide real-time observations of winds, temperature, waves and currents.